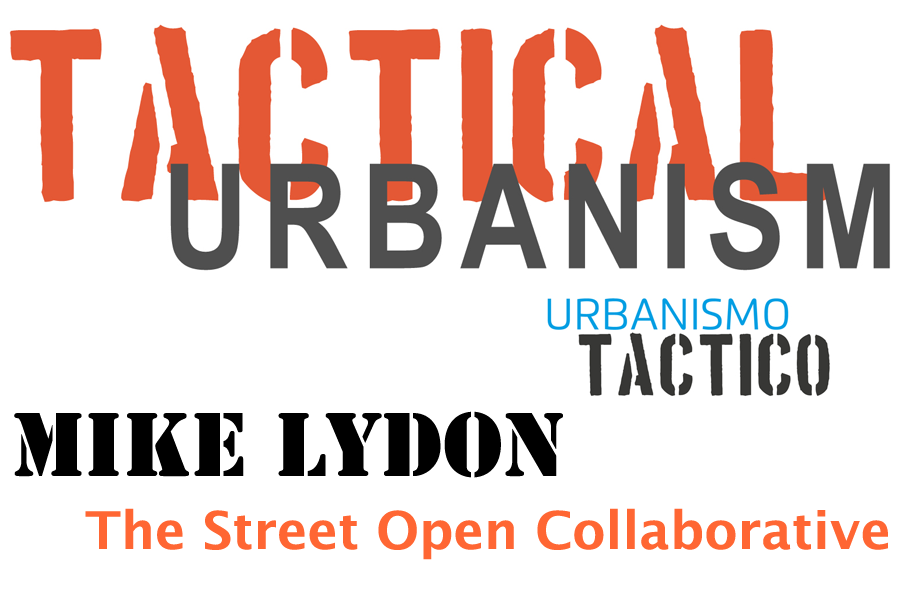 "The lack of resources is no longer an excuse not to act. The idea that action should only be taken after all the answers and the resources have been found is a sure recipe for paralysis. The planning of a city is a process that allows for corrections; it is supremely arrogant to believe that planning can be done only after every possible variable has been controlled."

– Jaime Lerner Architect, urbanist, former mayor of Curitiba, Brazil
Source: Tactical Urbanism Vol. 2 (issuu)
I'm very happy to share with you that Mike Lydon from The Street Plans Collaborative is going to give a talk about Tactical Urbanism at ZZZINC. We hope you can come to join us on thursday 15th at 19:30h, as usual at ZZZINC venue.
About the speaker
Mike Lydon (@MikeLydon) is the Principal at The Street Plans Collaborative, Co-author of The Smart Growth Manual (amazon), creator of The Open Streets Project (issuu) and Tactical Urbanism Vol. 1 + Tactical Urbanism Vol. 2 (issuu).
The Street Plans Collaborative is an urban planning, design, and research-advocacy firm. We strive to create high-quality public spaces, and believe that the key to reversing the harmful effects of suburban sprawl is to promote compact, walkable, mixed-use neighborhoods. We thrive on working with our clients, partners, and other likeminded organizations to improve the quality and function of the built environment. We seek to increase the effectiveness of multi-modal transportation as a means to creating more competitive and sustainable 21st century towns and cities.

– streetsplan.org
What is tactical urbanism?
As it defined, Tactical urbanism is a deliberate approach to citymaking that features the following five characteristics:
A deliberate, phased approach to instigating change;
An offering of local ideas for local planning challenges;
Short-term commitment and realistic expectations
Low-risks, with a possibly a high reward; and
The development of social capital between citizens and the building of organizational capacity between public/private institutions, non-profit/NGOs, and their constituents.
You'll probably know a lot of tactical urbanism, but here there are a few samples: Park(ing) Day, Mobile Vendors, Guerilla Gardening, Chair Bombing, ad – Busting… many ot them have been showed on Spontaneous Interventionsat the USA Pavillion in the 13th International Architecture Exhibition Common Ground of la Biennale de Venezia.
Practical information
I want to go.. Closed. Confirmed people will enter first and then until full capacity.
When? 19:30 h. Thursday 15th of november
Where? C/ Sant Vicenç 33 (local2). 08001 Barcelona. Google Maps
Free as usual but RVSP needed because of the limited capacity.
Language: English only, no translation.
Networks:
Facebook event
Twitter hashtag: #tacticalurbanism
Coordinator Paco González – radarq, you can ask me about details through Twitter @pacogonzalez or email.